Other services
Insurance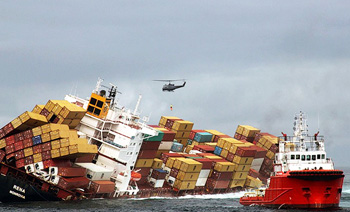 Cargo insurance is one of the most important procedures in the organization of transportation. Some people believe that insurance can be neglected, thus saving a fraction of a percent from overall transportation costs, however, as practice shows, this is a fundamentally wrong approach. On the left you can see what can happen to your goods, and if it was not insured, the chance to compensate the losses themselves will tend to zero.
Our company always makes out an insurance policy for your shipment valid all the transportation process. We are able to insure your shipments in the world's top insurance companies that specialize in this market at the best rate, so you can always count on a full refund of your shipment in the event of any force majeure happened on the water, land and in the air.
Consulting
We offer consulting services in logistics and organization of cargo transportation. The main objective is to reduce the costs of consulting with customers relating to procurement, customs clearance, transportation, certification and distribution of goods.